To commemorate the Centenary of Anzac (2014-2018) the City of Ballarat, with the generous support of local institutions, committees, associations and individuals, launched a mobile website titled 'Honouring Our Anzacs'. This easy to navigate platform enables access to the stories behind the 3,801 brave Ballarat men and women who fought for our country's freedoms during the Great War. This mobile website is designed to enable access to the information available for those who have a memorial tree planted along the Ballarat Avenue of Honour.
While every effort has been made to ensure the information on this platform is complete, we seek the support of those who have in their possession the stories and photographs of those along the Ballarat Avenue of Honour.
If you have any information and particularly photos of any of the people mentioned on this web site, please contact the Arch of Victory/Avenue of Honour Committee.
Avenue of Honour Restoration Appeal
In the wake of the recent windstorm, the Arch of Victory/Avenue of Honour Committee has launched a public appeal to raise funds to offset the cost of restoring the Avenue. More than 50 trees were destroyed and will require removal, while many more were damaged and will require further assessment. Thirteen of the destroyed trees had been planted to commemorate the sacrifice of men who lost their lives.
Committee President, Garry Snowden, said the loss of any tree diminished the Avenue but the loss of trees planted for those who made the supreme sacrifice was tragic. "Three of those men have no known grave, so their tree and plaque in our Avenue was most likely the nearest they had to a headstone bearing their name. It was a memorial to their service, but also a place where their loved ones could visit to honour their service and mourn their loss."
"Even in the case of the ten who have a known grave, it was most unlikely that their families could have ever contemplated visiting a grave on the other side of the world, so their tree and plaque in the Avenue became their substitute headstones."
"We will work closely with Council to ensure that our Avenue is restored and continues to commemorate the service and sacrifice of so many Ballarat citizens."
Donations
Donations over $2 are tax deductible and can be lodged:
In person at the City of Ballarat Customer Service desk at the Phoenix Building in Armstrong Street South. Cheques should be made payable to: Arch of Victory/Avenue of Honour Committee Inc-Tree Restoration Appeal.
By direct deposit to the appeal bank account: Arch of Victory/Avenue of Honour Committee Inc-Tree Restoration Appeal, BSB: 083 526 Account: 51 924 3834. Please contact one of the following for a receipt:

Garry Snowden - 0487 313 137
Paul Jenkins - 0408 343 053
Jeremy Johnson - 0407 860 883
Stories
| | | |
| --- | --- | --- |
| | | |
| Tree 3327: Wallis Hicks, from Kent Street Sebastopol, had attended the Redan State School and was a 19-year-old carpenter when he enlisted. He served with the 31st Battalion and was killed in action at Polygon Wood, Belgium, on September 26th 1917. He was buried by comrades but after the war his grave could not be located. He was 21 years of age. | Tree 3619: David Louden was a miner from Alfredton when he enlisted. Tragically he died just three days before the war ended, his funeral being held on the day after the Armistice was signed. | Tree 3872: Sydney Weir, born in Wales, was a teacher from Chisholm Street in Soldiers Hill. He served with the 12th Field Ambulance and was killed in the fierce fighting at Mouquet Farm near Pozieres in France on September 3rd 1916. He has no known grave but is remembered on the honour board at the Black Hill Primary School. |
Upcoming and Recent Events
Remembrance Day

Covid 19 restrictions again prevented the Committee from holding its usual Remembrance Day service but a small informal gathering laid wreaths at the Garden of the Grieving Mother.

Fromelles

On July 19th 1916, troops of the 5th Australian Division fought at Fromelles in the first major battle involving Australian troops on the Western Front. The Division suffered over 5000 casualties including 38 men remembered with a tree in the Ballarat Avenue of Honour.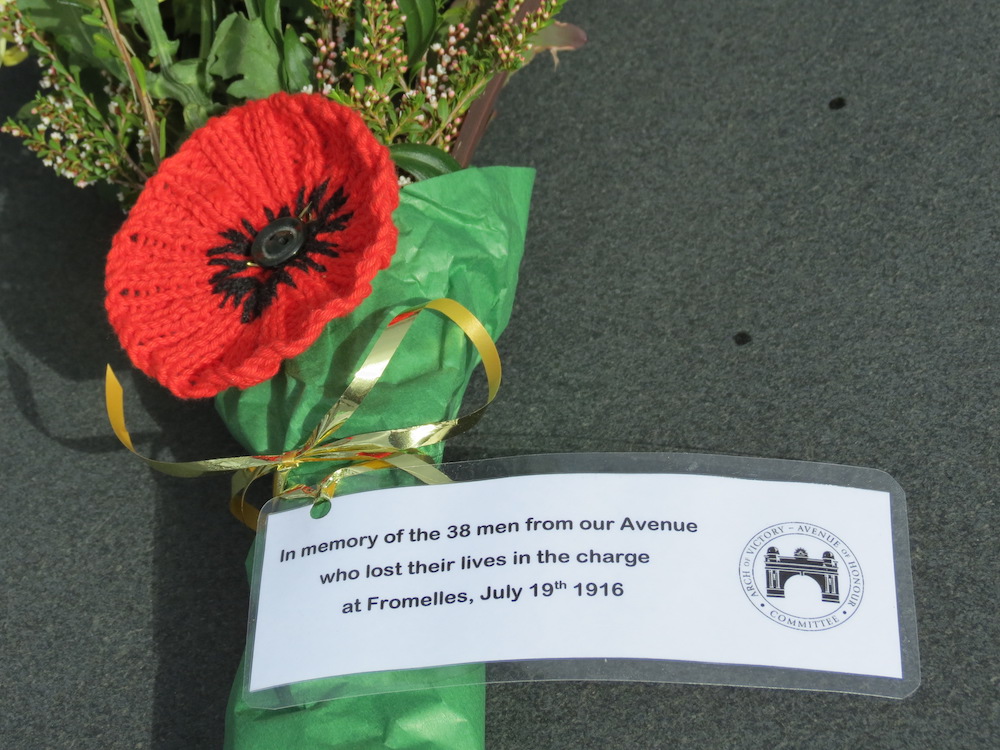 Acknowledgements
Arch of Victory / Avenue of Honour Committee
Mr. Ted Lynes OAM
Cemetery Trust through "They Answered their Country's Call" written by Garry Snowden
Federation University Australia
City of Ballarat
References
Conservation Management Plan - Ballarat Avenue of Honour and Arch of Victory (2014) - written by John Wadsley
This site relies heavily on the Australian War Memorial, the National Archives of Australia and The AIF Project.
The photos of Gallipoli headstones included on this website are provided courtesy of the Spirits of Gallipoli project.